Features and Components
Keyring Storage

Attach keys for your toolbox or safe to the removable brass pin so they are easily accessible and don't take up space inside the tray.

Removable Flex Tray

Soft but firm, the Flex Tray insert is perfect to drop small parts on or store valuable gear. Use it separately by replacing it with the included rubberized cork mat.

Curator Tray (Optional)

A familiar JRW design, the pyramids allow you to curate your gear with barriers to avoid accidental bumps and scratches. Also makes great staging for photos!

Inch Ruler

Use the integrated ruler with movable pins to quickly indicate a desired length for cutting cord and leather or measuring material.

Recessed Rubber Feet

Extremely tacky feet provide plenty of grip on flat surfaces and enough elevation to easily pick up and move your tray. Transitioning from one location to another with all of your necessities is convenient and hassle free.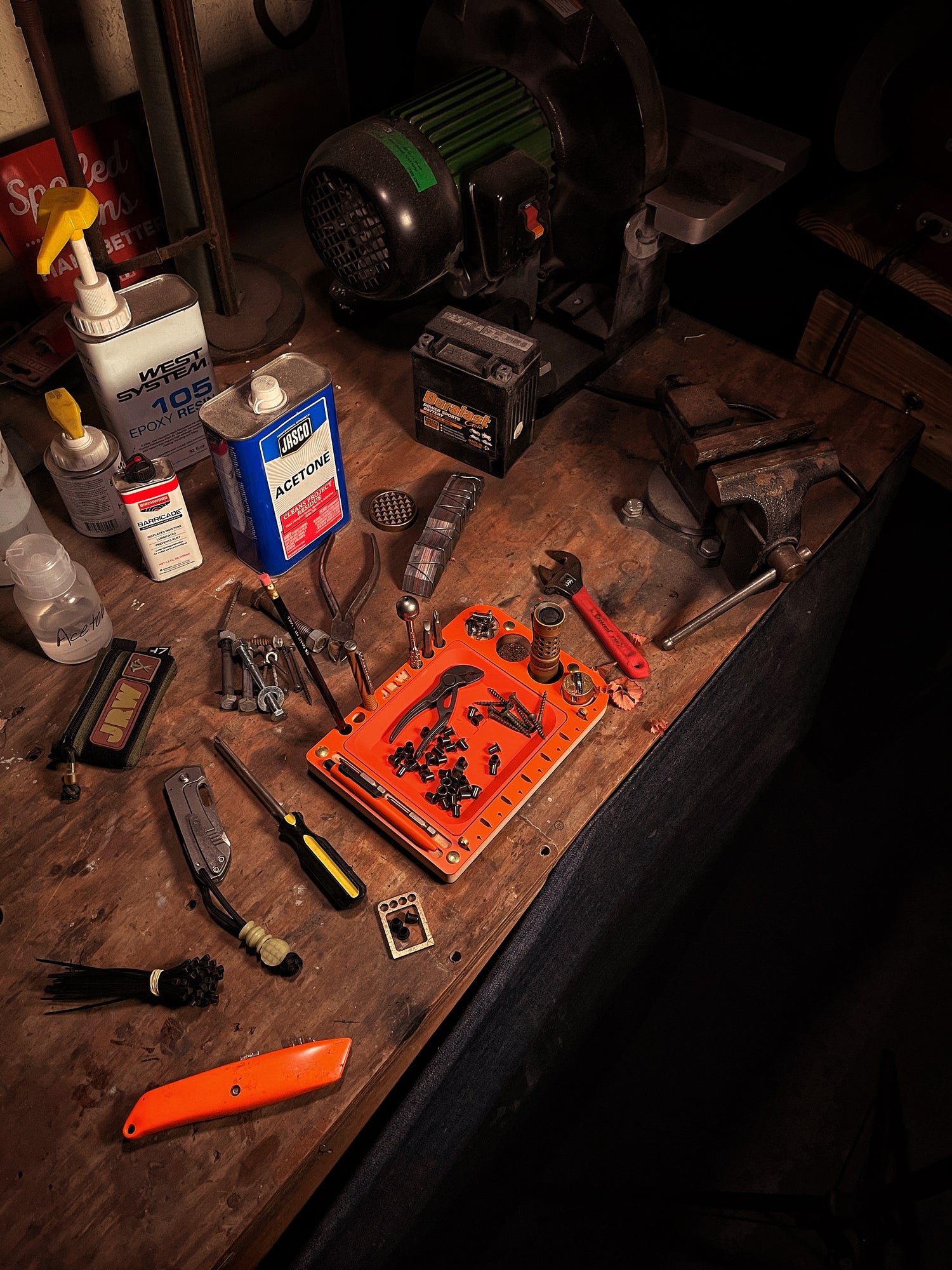 Workbench
A perfect catch-all for any workshop, the original prototyping for the Cheat Sheet PRO was actually geared towards workbench use! Although it was updated to make a damn fine valet tray, the design maintains designated slots for pens, markers, bits, bit drivers, small parts, etc.
For hard shop use, the Safety Orange colorway is an excellent option. The bright color yields a striking contrast to machinery and work tables so you can locate your tools and small parts at a glance. You can't miss it from across the room!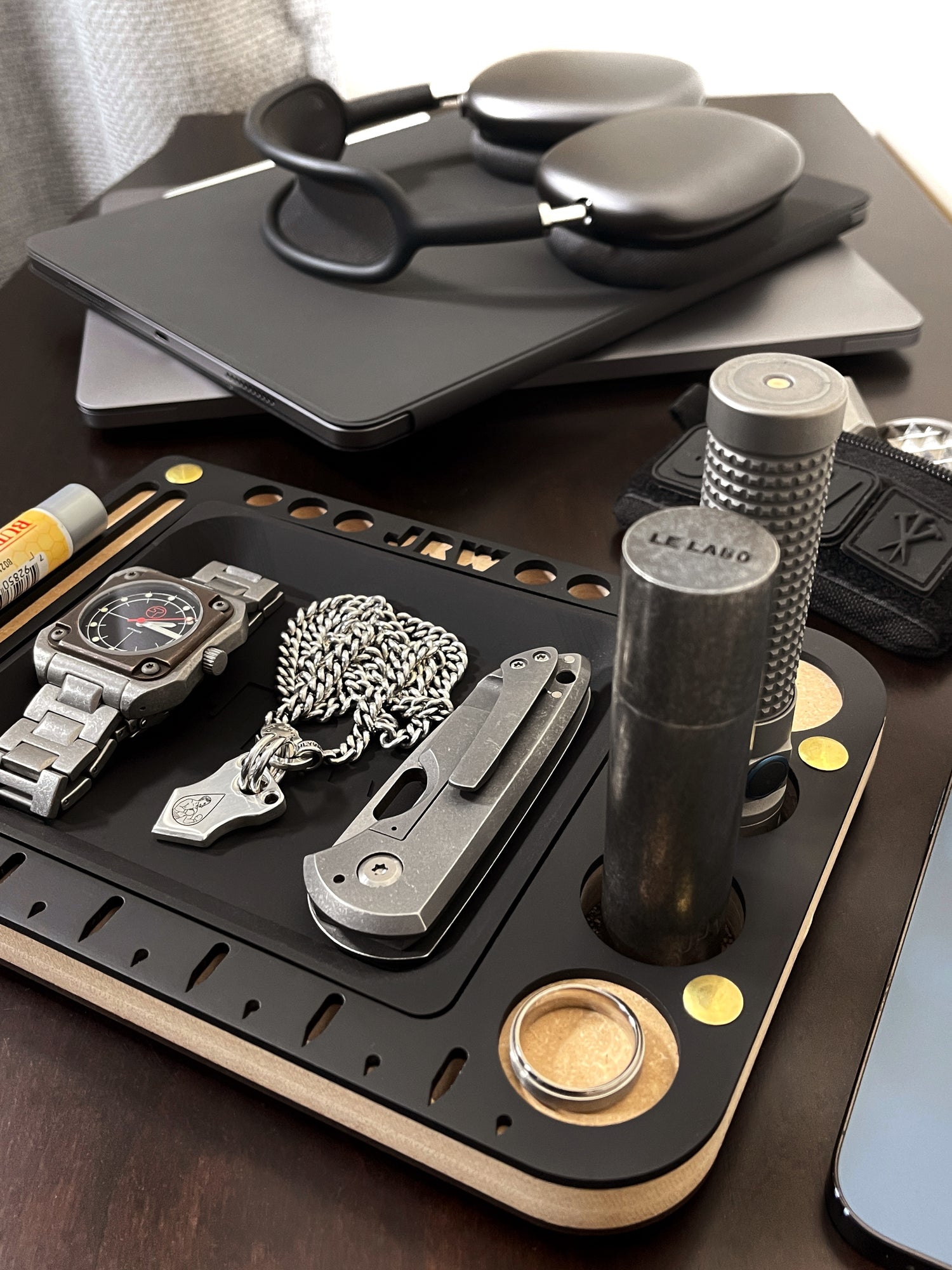 Nightstand
The nightstand dump tray, an essential item for anyone who takes pride in what they carry. Cheat Sheet PRO provides a space at the end of the day for your knives, watches, pens, keys, and other daily essentials as well as a perfect spot to keep your wedding band safe.
To maintain a dark, distraction-free bedtime environment, consider choosing the Black colorway for your bedside table!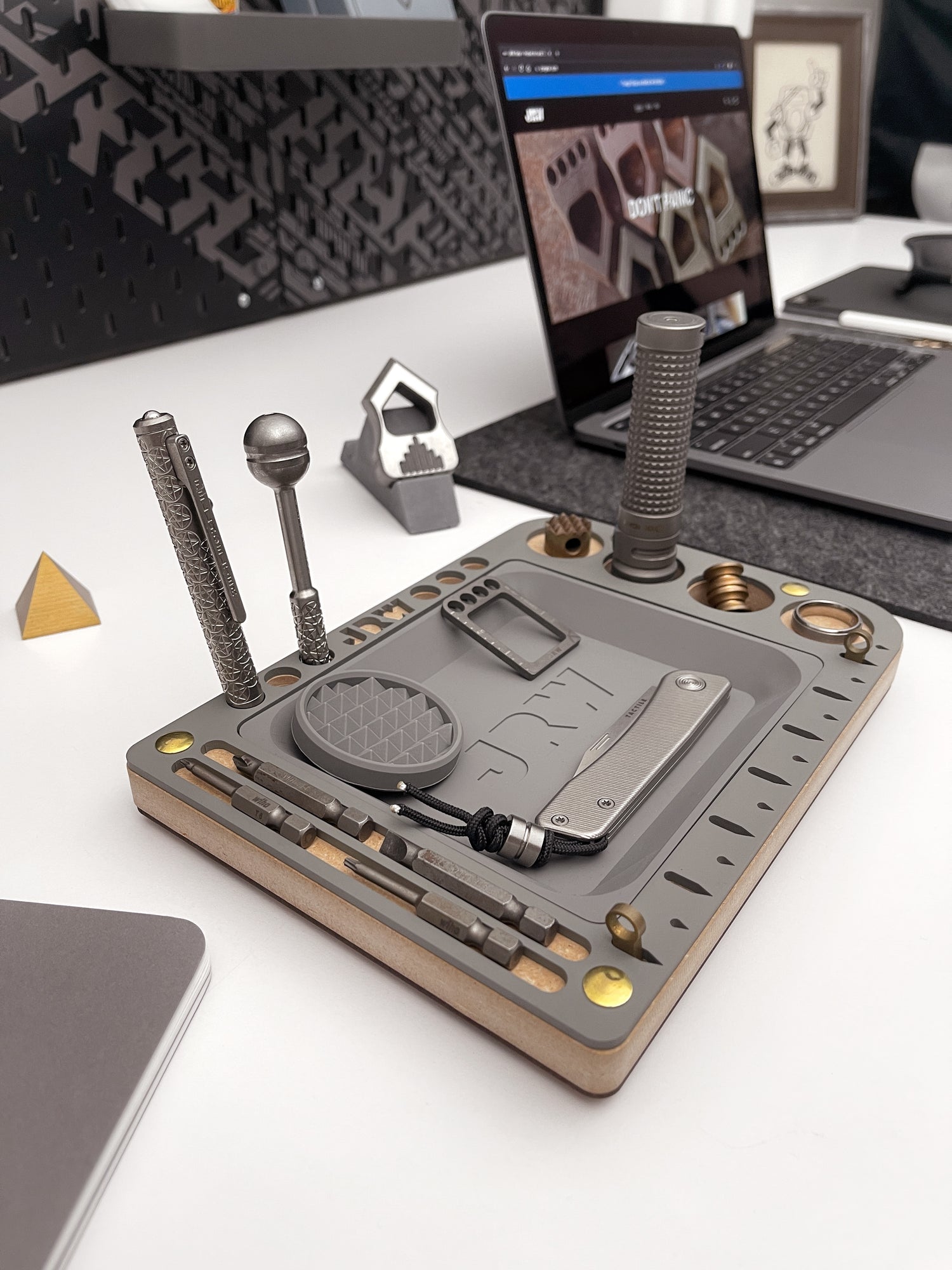 Office Desk
Desk caddies help keep your most important space clean and tidy so you can be more productive. Unload your pockets and keep writing utensils on hand in style with a Cheat Sheet PRO.
If you're looking for a classy option, the neutral tone of Concrete Gray paired with brass hardware is a perfect complement to your desk.
Collapsible content
Specifications

Cheat Sheet PROs are cut from MDF with a Cerakoted 5052 aluminum top, brass hardware and non-slip, recessed rubber feet. Flex Trays and Curator Trays are made of PVC rubber. Dimensions are as follows:

Length - 8.75"

Width - 6.25"

Height including rubber feet - .8"

Main pocket - 5.73" x 4.98" x .625"

Weight including Flex Tray - 1lb 3oz
What's Included

Every Cheat Sheet PRO includes rubberized cork inserts for all deep pockets, brass hardware, two brass pins for placement in the inch ruler and a JRW sticker. The whole package comes in a custom box.

Flex Trays and Curator Trays are optional add-ons in the Cheat Sheet product collection.
Where It's Made

Cheat Sheet PRO was designed in Charlotte, NC and are made, cerakoted and assembled in the USA with the exception of the PVC rubber inserts.
Support

For any questions or concerns please email support@jrwgear.com